Macstock recognizes the need for diverse viewpoints and experiences in the technology field. The conference's focus on the end-user and the positive potential of technology in our lives gives Macstock a unique perspective within the independent Apple conference community.
Each year, attendees of all experience levels learn new techniques from community-leading experts for getting the most from their Apple hardware and software and are encouraged to engage with other members of the Macstock Community to further their learning. Featuring that combination of educational talks and emphasis on one-to-one personal interactions, Macstock gives its attendees an opportunity to not only grow their skill set, but to meet other members of the Apple community from around the globe who'll also be visiting Macstock.

I began the Macstock Community Fund in 2022 as a way to provide funding on an annual basis to those who may not be able to attend Macstock due to economic hardships or other financial need, but could benefit from the community atmosphere and knowledge shared each year at Macstock.
The Macstock Community Fund's history is rooted in the generosity and encouragement Macstock's Presenters have shown in the past by self-nominating and funding previous attendees of Macstock.
By creating the Macstock Community Fund and nurturing it with contributions provided from within the Macstock Community, I hope to continue and encourage this tradition for many years to come.
Thank You,
Mike Potter
Founder & Lead Organizer
Macstock Conference
Macstock Community Fund Details
The Macstock Community Fund will provide a scholarship for an attendee with financial need who has never attended Macstock before.
It will be limited to the annual Macstock Conference currently taking place each summer.
Recipient(s) will be announced on an annual basis (provided there are applicants and someone is selected).
Initially, the Macstock Community Fund scholarship will cover the cost of the event ticket. It's hoped it can grow to include lodging and travel in the future.
One scholarship will be awarded per year and recipient notified at least 3 months in advance of the annual conference (provided a selection is possible).
The scholarship will be awarded by a small team of Macstock Community members hand-selected by Macstock.
The scholarship will be funded by contributions received from members of the Macstock Community and Macstock's organizer, ESC! Technologies Group, LLC.
The initial Macstock Community Fund scholarship will be awarded in 2023.
Contributions to the Macstock Community Fund are not tax deductible.
Macstock Community Fund's Patrons
Macstock would like to extend its thanks to the following individuals for their generous contributions to the Macstock Community Fund. Their sponsorship of this program will go a long way toward extending the Macstock Community and its ability to foster and encourage a deeper understanding of technology and its ability to touch the lives of those who might not otherwise be able to attend.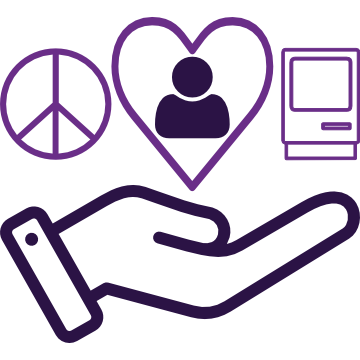 Robert C.
Bill G.
Lynda & Charles G.
Ted & Lydia H.
Marty J.
Lisa & Steve M.
Michael M.
Frank P.
Frank S.
Michael S.
Allison & Steve S.
Tim S.
James T.
Mark T.