From the fantastic talks, to discovering new tips and tricks while chatting around the lunch table, to meeting up with great friends old and new, there's nothing like being at Macstock in person! And we still have plenty of tickets available if you'd like to join us for the biggest and best Macstock yet — including the Theatrical World Premiere of the new documentary, Love Notes to Newton!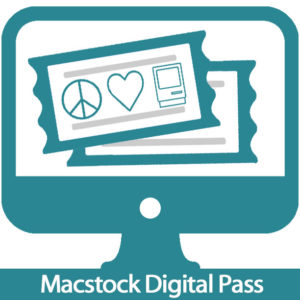 But I've heard from a few of you that while you REALLY wish you could make it to Macstock in person, it's just not going to work to attend this year for personal, professional, or other reasons. So, I put on my thinking cap and after a couple weeks of planning, came up with a brand new ticket — just for YOU!
This new ticket is called the "Macstock Digital Pass" and with it, you'll gain access to video recordings of the keynote, all morning sessions, and all main stage Deeper Dive sessions just a few short weeks after Macstock ends! (plus maybe some exclusive bonuses we sprinkle in here and there) And you can watch it all from the comfort of your…well, wherever your Mac or iPad takes you!
Like I said, it's not quite the same as being there (and being at Macstock is pretty awesome), but it's the next best thing to seeing all of this year's wonderful speakers in person! If you'd like to learn more about Macstock 2018's Digital Pass, check it out here!