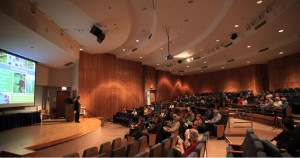 Situated in the heart of McHenry County, the Luecht Conference Center is located in Building B of the main McHenry County College campus in Crystal Lake, IL.
This state-of-the-art facility features seating for up to 350 people, 2 breakout rooms, full dining facilities, and a commons area for casual networking.
The Luecht Conference Center is ADA Accessible and offers free WiFi for all Macstock attendees plus plenty of free parking just outside the main entrance to the Center.
Address
The Luecht Conference Center is located at:
McHenry County College (MCC)
8900 U.S. Hwy 14
Crystal Lake, IL 60012-2761
Please enter at the first entrance on Highway 14 (College Entrance 1)
At the first stop sign on campus, turn left and park in the lot just outside Building B.
The Luecht Conference Center entrance is clearly marked above the door.
NOTE: When leaving for the evening, if you're headed back east on Hwy 14, you will need to drive around the campus loop to the stop light at the West entrance to turn left.
Still have questions? Contact Us!