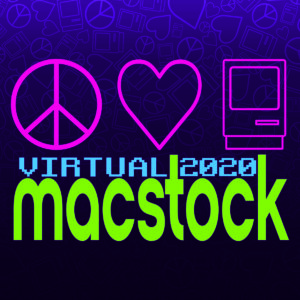 I had two thoughts on my mind as Virtual Macstock came to a close last Saturday:
Wow, that actually worked!
and…Man, Virtual Macstock was a BLAST!!
We had speakers in their virtual green room, chatters in the chat room, and avatars zipping around the Macstock Lounge — thank you Marina! — and then folks jumping between them all throughout the day.
Just Like Macstock.
And, if you didn't catch it, we even had a MyMac.com recording session taking place in the Lounge. Just…Like…Macstock.
Dang Guy and Gaz, that episode was fun! For anyone who missed it, be sure to catch it and all the Virtual Macstock attendee cameos, right here: https://www.mymac.com/2020/07/mymac-podcast-811-aliens-hack-skype/
THEN, don't miss Allison Sheridan's look at how High Fidelity and Jitsi Meet (used for the speaker green room) worked in concert to bring a little extra "real" to the virtual. Her blog post on some of the tech we used for Virtual Macstock is here: https://www.podfeet.com/blog/2020/07/virtual-macstock-tools/ and you'll also hear Steve and Allison chatting about High Fidelity in this week's NosillaCast here: https://www.podfeet.com/blog/2020/07/nc-794-2/
Allison also shared a human connection story with me where an attendee, Brian, met them in the Macstock Lounge and, later, caught up with them again in the NosillaCast live chatroom!
Just Like Macstock. Awesome!
Okay, I know it wasn't exactly "Just Like Macstock" in every respect, but it sure was great seeing all the folks I've met and become friends with throughout the years hanging out and having a good time. That was the point of Virtual Macstock. And that absolutely was…Just Like Macstock.
It just makes me long for the next in-person Macstock even more. Can't wait!
Accessing the Live Stream Encore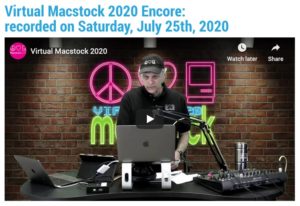 Did you miss some of the live stream? No problem! The encore is playing in the Virtual Macstock Main Hall!
We had a little glitch with the actual recording of the live stream lopping off the beginning and end of the day(!!), but I was able to download a full copy and re-upload it separately.
To access the encore presentation, just log in to your account at https://macstockconferenceandexpo.com/virtual-macstock-2020/
Once logged in, you'll see the full video embedded on that page.
*PSST!* Want to jump to a certain talk? No worries, I won't tell! Unfortunately, YouTube Chapter Markers can't be embedded on the Macstock site, so you'll also find a direct link to watch the encore on YouTube with Chapter Markers to make it easier to find the talk you're looking for.
The live stream will be available on the Virtual Macstock Main Hall page for all Virtual Macstock Passholders through August 1st, 2020. EXTENDED: through August 8th, 2020
Macstock 2021 Weekend Passholders will also have the videos added individually to their Digital Pass to watch any time.