The winter holidays are a time of reflection. A time to step back and give thanks for those around us: Our friends. Our family. All those closest to us that we hold dear.
And as we come to the end of another Macstock-less year, I've been thinking about all of you. A lot. And I've been thinking about the next time we can all get together again, in person, in a safe and healthy environment. But I've also been reflecting on the past and the joy brought to me, my family, and the community because of Macstock.
I had no idea when I cobbled together the first Macstock in 2015 how much each and every one of you would come to mean to me. Just yesterday, I delivered a package to a friend of mine here in Illinois that will help make her husband's Christmas a special one. But I could only do that because another friend of mine, a friend I met because of Macstock (and, I should add, lives half-way across the country) took a trip to a regional store near his home, picked up an item that could only be found there, and shipped it out to me in time for the holidays.
And that's not the only story of generosity and friendship to come out of Macstock. Far from it! I could fill this newsletter with those stories. Stories of selflessness. Stories of fellowship. And stories of love. Who knew how prescient Macstock's logo would be when I sketched it out on a piece of scrap paper nearly 12 years ago:
Peace. Love. Mac.
That's what makes the Macstock Community so special to me. That's what makes Macstock so special to my family (most of whom you've all met at Macstock as they tirelessly "volunteer" to help make the weekend a successful one). That's what makes Macstock so special to our presenters and volunteers. And that's what makes Macstock so special to everyone who's ever made the trek to Woodstock and became part of the Macstock family.
Macstock is about getting together and enjoying each other's company, our shared history, and, of course, our expertise, and I am so very grateful for the community that's supported and helped grow Macstock throughout the years. And I'm especially thankful to all of you patiently waiting for Macstock to resume once again. Your overwhelming faith and trust in Macstock (your faith in me!) to do right by you means the world to my family and I.
So as we enjoy the company of those who mean the most to us this holiday season, I wanted to use this year-end newsletter to take a quick journey to Macstock's Future, Macstock's Present, and Macstock's (Recent) Past. But rather than invoke the spirits of the holidays (let's face it, other than the Ghost of Christmas Present and the bounties of generosity and goodwill it brings along for the ride, those other two ghosts can be real buzzkills!), I thought we could, instead, climb into our favorite time machine and do a little time traveling together!
(I tried to find out if the device itself in H.G. Well's "Time Machine" [https://www.gutenberg.org/ebooks/35] had a nickname…like Ol' Betsy or some such thing. Surprisingly, it doesn't seem it did. If you know differently, let me know! For now, I'll just say: our Time Machine — only because we don't need that "relative dimension in space" bit.)
While it seems that elusive light at the end of the tunnel that was oh-so-close only a month ago just got a little further away with the omicron variant, as you travel to Macstock's Future with me, please take the survey mentioned below and let me know your thoughts on getting together in person once again. It may be in 2022, or it may be later, but I know we'll get there with a little patience and by all working together to put this pandemic behind us.
Take care, be safe, and be kind*,
Mike
* Those who follow Disney news through various YouTube channels may recognize that I'm paraphrasing one of my favorite Disney vloggers, David Erickson, of "Fresh Baked" [https://www.youtube.com/c/FreshBakedDisney]. He signs off nearly every episode with the words "be kind to one another" and I like it so much — and the idea is so very important — that I decided to borrow it. Thanks David!
Macstock's Future: What's in a Name?
PLUS: A Macstock 2022 Survey!
Time for a Name Change?
Okay, Macstock will ALWAYS be "Macstock", but as Omicron rears its head and we're faced with the important questions I pose within the survey below, it started to feel silly … like, really silly … to continually change how I referred to the next Macstock by year.
Macstock 2020.
Macstock 2021.
Macstock 2022(??).
Plus it was confusing for people. Wait…is Macstock 2022 the same as Macstock 2020? What happened to 2021? We had a Macstock in 2021 and 2020. Didn't we? No, wait, that was VIRTUAL Macstock!
ARGH!!!!!
(Listen to the exchange Allison and I had at the beginning of her Virtual Macstock talk this year for a real life example!)
SO, I'm officially changing the NEXT Macstock's name from Macstock 2022 (or whatever) to — insert trumpet fanfare here — Macstock VI.
I know. A bit anticlimactic isn't it? But that simple change will make it easier for everyone to remember, and it'll give us all something concrete to latch on to.
What's the next Macstock? Macstock VI (or "Macstock 6" if you prefer, I'm not picky)
Plus, like bow ties, roman numerals are cool. Just ask George Lucas.
And if you guys still like to use a year, you can easily say: Macstock VI in 202x (more on that in just a second).
So watch for those changes to slowly make their way through the Macstock website and other references just as soon as I can make them.
Take the "Macstock in 2022" Survey!
I need your help!
Hosting Macstock takes planning. Scheduling. Booking.
Call it what you will, but to successfully host Macstock in summer, I typically need to begin arranging hotel blocks and booking the conference center nearly nine months in advance.
And while Janet and I toured many potential conference centers earlier this year, I've yet to reserve one for 2022.
Why?
Because doing so is an important decision and takes real commitment. (read that as "financial commitment".) And, to be honest, in the age of COVID-19, it's not something Macstock can afford to do, only to cancel later. It's not fair to the venues, hotels, caterers, restaurants, promotional printers, or anyone else involved in making Macstock a successful weekend for everyone each summer.
It's also not fair to you or to Macstock's presenters.
Everyone involved needs to make plans to attend. Arrange flights. Book hotel rooms. Take vacation days. So when those plans suddenly change or are outright cancelled, that's a financial liability everyone must bear.
So after two years of postponing Macstock, always thinking things are finally starting to look good for hosting in person again, along comes another roadblock like Omicron to throw a monkey into the wrench (that's a "Mikeism". Just accept it.)
So, yeah, I'll admit, I'm at a bit of a standstill when it comes to making a decision on 2022.
But that's where YOU come in! I've said time and again that Macstock's Community is the key to its success, so I'm turning to you for help.
And while I realize you can only answer this survey based on what's known about the state of COVID-19, travel, and other factors at this very moment, by taking this survey, you can help me gauge your current interest level in attending Macstock next summer. And that will allow me to make a better-informed decision on Macstock's immediate future.
So please take a moment to let me know your thoughts on attending Macstock in person. Either in 2022 or beyond.
And while the survey itself is completely anonymous, if you would like to share your thoughts or comments on Macstock's future with me directly, please email me and I'll be happy to reply personally.
The survey will automatically close on January 10th.
Thank you!
Macstock's Present: Have You Met Jim?
In the newest episode of Macstock Stories, we chat with Jim Rea about his history with Apple and developing for the Macintosh, the origins and development of the database app, Panorama, some cool use-cases of Panorama, and what encouraged him to attend his first Macstock in 2019.
Jim is a Mac developer ever since there were Macs, the founder of ProVUE Development, author of Panorama, and a frequent contributor to MacVoices.
Macstock Stories is a limited run series that focuses on the folks who attend and support Macstock each year.
Everyone has an interesting story to tell, and this is Jim's!
If YOU have an interesting story to tell, whether it's a cool project you're working on with your Apple gear or a favorite story from past Macstocks and you'd like to share it with the Macstock Community, reach out and let me know!
Macstock's (Recent) Past: Revisiting Virtual Macstock 2021!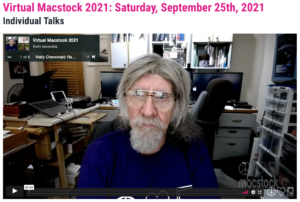 Did you miss any of the Virtual Macstock 2021 live stream? If you have a VIP Pass or a 2021 Digital Pass you can watch and re-watch your favorite talks on demand!
To access your Digital Pass for Virtual Macstock 2021, just log in to your account at
https://macstockconferenceandexpo.com/2021-digital-pass/
Once logged in, you'll see all 6 individual talks from Virtual Macstock 2021 embedded on that page.
And that includes Wally Cherwinski, Brett Terpstra, Rick Cartwright, Mike Schmitz, Allison Sheridan and …
Wait a second! Six you say Mike?? That's right! We may have missed Kelly Guimont's talk during the live event, but we got it for all you Digital and VIP Passholders and it's ready to watch any time! Just like our other talks, Kelly had fun with this one and I hope everyone gets a chance to watch it.
So that's 6 great talks on demand!
And while watching those talks, don't forget to support ALL your favorite Macstock presenters from Virtual Macstock or even Macstocks Past! Show them your love for all the hard work they put into supporting Macstock each year by supporting them! Subscribe to their shows, give their software a try, buy their books, and read their blogs! And don't forget to hit them up if you have questions about any of their projects, I'm sure they'd love to hear from you!
PSST! Have questions or troubles accessing your Digital Pass for Virtual Macstock 2021 or earlier? Be sure to drop me a line and I'll be happy to help straighten things out for you!