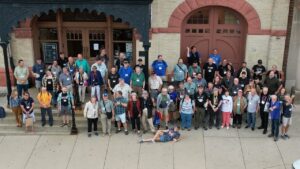 When Macstock Day One came to a close on Saturday, Mac Geek Gab's Pilot Pete gathered everyone for a photo op in front of the Woodstock Opera House, but what we didn't know is that we'd have to look UP to wave at the camera!
Skillfully piloting his drone above Van Buren street (shh!) Pete snapped a bunch of great shots of this year's attendees — plus video that included a group wave from everyone before we wrapped the day and headed off to dinner.
I put together a quick video with Pete's footage and got it up on the Macstock YouTube Channel, but if you subscribe to the Macstock newsletter and would like to create your own "Director's Cut", check out the QR code in the August 30th newsletter to download all the stills and video Pete shared with us!
Thanks Pete!!