In the weeks leading up to Macstock 2015, we'll be running a series of quick interviews with each of the presenters of this year's Macstock Conference & Expo called Meet the Speaker.
Today we're meeting Guy Serle, a long time Mac user and, along with Gazmaz, one of the co-hosts of the MyMac.com Podcast.
MyMac Podcast: http://www.mymac.com
Why do you use a Mac?
Going all the way back to the early 80s when I first saw a crude flight simulator on an old Apple II I've been fascinated by computers and what they had the potential of doing. As soon as I could afford one, I bought into it to see if I could translate some of that interest into the real world. That old Mac Plus served me well and convinced me that this was something I wanted to pursue.
What would you say to someone to convince them to come to Macstock?
If you ever went to the Macworld Expo and enjoyed it beyond the vendor's booths then this is your chance to experience the community again. If you never went to the Macworld Expo, this is your chance to get a taste of what it was like at a much lower cost and in an area that won't judge you based on your fashion sense or in my case lack of fashion sense.
What is your favorite Mac app and why?
I actually don't have one. There are apps I like using based on my current activities, but none strike me as being the "one".
Do you have any advice for switchers? Either to the Mac or to the Apple world in general?
While every community has a few of "those" kinds of people that base your worth on how much knowledge you have of your preferred platform, you'll find fewer of them on the Apple side and quite a few who at no cost to you will go the extra mile to help you resolve an issue or problem. I rarely see this level of involvement on the Windows or Linux sides.
If you were a Mac, which Mac would you be?
The Pismo PowerBook 500MHz with it's soft outer shell in the middle.
Tell us something about yourself that is NOT Apple related.
I want to be younger again even if that means losing my knowledge of what I've gained throughout the years and secondly I want to have more hair on my head than on my arms. Oh, also a pony and Heath bar ice cream.
In all seriousness, my first passion is writing and I wish I was better at it and/or had more time to do so.
---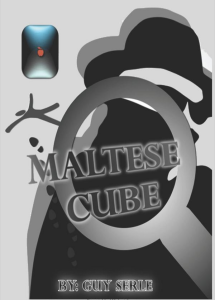 Macstock Note: Guy will have copies of his latest novel, Maltese Cube available at Macstock 2015 for anyone who'd like to purchase a copy!
It may also be purchased on Amazon.com: http://amazon.com/Maltese-Cube-Mr-Guy-Serle/dp/1508749353/