Macstock Swap is Back!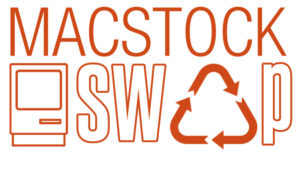 Designed as a place to help recycle your old, working, gear by delivering it into the hands of folks you know will treasure it as much as you once did, the Macstock Swap Trading Zone is a place for folks to drop off old Apple stuff and pick up new (to you) Apple stuff from others in trade!
Some examples of "stuff" might include: unwanted/unused hardware, software, or even your old Apple collectibles!
As you might expect, there will be a few simple rules we'll ask everyone to follow:
Hardware must be complete and in working condition
iOS devices must have Find my iPhone disabled, signed out, and Erased
Devices with cables should be neatly bound (no rat's nests!)
Software must run on a Mac and include all original discs & licenses
iPhone/iPad cases or screen protectors must fit current model devices.
Please: NO cables, NO speakers/headphones, NO Electronics Cases or bags (or similar)
No money is to change hands
No taking Guy's podcasting equipment 🙂
If any of your "stuff" is left over at the end of Macstock Weekend, we ask that you please take it home again to recycle responsibly.
Help give your old hardware the new home it deserves at Macstock 2019!