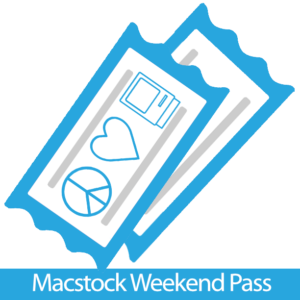 I mentioned this during the live stream this week, but I can't believe that after two long years, I finally get the opportunity to announce that Macstock Ticket Sales are underway! Woo hoo!!
Once again, we'll be filling the auditorium at McHenry County College's Luecht Conference Center with 2 days of awesome talks featuring many of your favorite personalities from throughout the Apple Community! Not only do we have several of your favorite past presenters coming back to Macstock's stage, but we have a few NEW faces in the works too!
And while the official theme for this year is "Rebuilding", for the first time in Macstock's history, our speakers have an opportunity to give talks from ANY of Macstock's past themes including Productivity, Create!, Play!, and, of course, this year's theme, Rebuilding.
WHEN? Macstock VI will take place July 23 & 24, 2022, 9am – 5pm each day.
WHERE? McHenry County College's Luecht Conference Center
Best of all, from now through May 31st, you can save $50 per ticket when purchasing a Macstock VI 2-Day Weekend Pass!
Each Macstock VI Weekend Pass includes:
All featured morning sessions
Your choice of available afternoon Deeper Dive talks (may be limited seating)
Lunch Included Saturday and Sunday
A Limited Edition Macstock VI T-shirt!
A Macstock VI Digital Pass included with your Weekend Pass to re-watch your favorite talks later!
Virtual Macstock 2020 & Virtual Macstock 2021 talks included with your Digital Pass!
Bonus swag for Weekend Pass holders (there's always bonus swag!)
If you can't make it for the entire weekend, Single Day Passes are available too!
ONE MORE THING: A Macstock Waitlist
Because we pre-sold so many tickets to Macstock 2020, the number of Weekend Passes available for Macstock VI is very limited!
If we "sell out", but you would like to be notified if/when more Passes become available, please Contact Me and I'll put you on a first-come, first-served waiting list!
**** Did You Purchase a Weekend Pass to Macstock 2020? ****
PLEASE don't buy another one! I've got you covered!
ALL MACSTOCK 2020 WEEKEND PASSES WILL BE HONORED FOR MACSTOCK VI!
(Not sure if you bought a 2020 Pass? Contact Me!)
Safety Protocols at Macstock VI
Macstock VI will have Safety Protocols in place as a requirement to attend in person.
Because of Macstock's widely diverse attendance and COVID-19 numbers continuing to fluctuate, in keeping with the overwhelming preference of Macstock's attendees, there will be several safety protocols in place including proof of vaccination against COVID-19, social distancing sections where indicated, and an indoor mask requirement.
Details of Macstock's Health & Safety Protocols may be found here: https://macstockconferenceandexpo.com/health-safety/
By purchasing a Weekend Pass to Macstock VI, you understand and agree to follow the Health & Safety protocols for Macstock VI.
If you purchased a Weekend Pass to Macstock 2020:
Macstock understands completely that some people may be uncomfortable with in-person events, or may be unable or unwilling to observe the new requirements laid out to attend Macstock VI. For those folks, Macstock will provide options to get a refund for your Weekend Pass or to donate the value of your pass to Macstock's Community Fund.
NEW for This Year: Macstock RSVPs!
Beginnning in mid-late May, I'm going to send out RSVP Confirmation Emails to Macstock 2020 Weekend Passholders. (New Macstock VI Weekend Passholders will get an RSVP at a later date)
Because it's been so long since anyone purchased a Weekend Pass to Macstock 2020, it will be super important you reply to the RSVP to confirm your attendance OR to let me know you won't be able to make it.
Your RSVP will help me manage the crowd size and admit any waitlisted attendees.
So watch for that email!