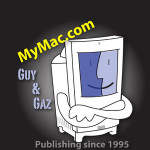 Mike joins Guy and Gaz of the MyMac Podcast to talk Macstock 2015!
Gaz and Guy are back this week with special guest Mike Potter of the For Mac Eyes Only Podcast. They're all about the upcoming Macstock Conference and Expo on June 20th in Woodstock, Illinois. Guy has a presentation scheduled and for the first time ever, Gaz and Guy will meet and do a podcast from the conference!
source: http://www.mymac.com/2015/04/mymac-podcast-554-big-news/
Listen Here!