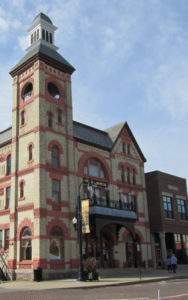 I've been sitting on some Big News for Macstock VII, but I couldn't say anything until ALL the pieces dropped into place.
Well, this past Friday, the last piece — you know, that one that fell off the table and slid under the rug only to be chewed up by the cat? Yeah, that piece. It's now in place and I can share what's been going on behind-the-scenes at Macstock HQ the past few weeks….
Mactock VII is moving!
Not far. Like, literally right up the road in fact! We're moving to a new venue located in the heart of the Historic Woodstock Square!
The new location is Stage Left and it's part of the Woodstock Opera House complex — a building with a long and storied history including performances by Orson Wells, Paul Newman, Tom Bosley, Geraldine Page, Lois Nettleton, Betsy Palmer and Shelley Berman!
So, yeah…we're in good company. 😉
And while Macstock won't be held on the Opera House's main stage — at least not this year — we will be hosting all our amazing speakers at (on?) … Stage Left, a venue decorated in a backstage motif celebrating the rich history of theatrical tradition.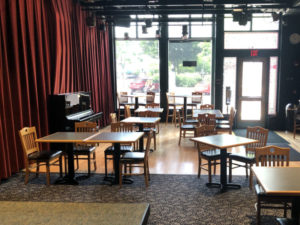 What I love about Stage Left is it's a venue offering a more intimate learning environment where, as an attendee, you'll have the opportunity to engage more directly with Macstock's presenters and your fellow attendees in a relaxed setting that lends itself to a stronger sense of community and togetherness.
Plus, being located in the center of the dynamic and vibrant community of Woodstock means that I can arrange for evening activities mere steps from Stage Left! (See below for details)
So, you can arrive in the morning for Macstock, stay all day for our fantastic presentations, stick around and grab yourself dinner, and take part in a casual evening of socializing both Saturday and Sunday, all without needing to hop in a car … at least not until you're ready to head back to the hotel at night.
Best of all? We're not compromising! Macstock VII will provide the exact same content we've been planning to offer! And that includes unique experiences like Macstock's Short Film Festival (did you submit your film yet??) and Mac Geek Gab LIVE.
Of course, I understand that change doesn't always sit well with everyone. And changing venues 60 days out?? Well, now that I think about it, that feels very "Macstock" doesn't it? But, if you purchased a pass to Macstock VII and moving Macstock to Stage Left affects your ability to attend this year, please reach out to me.
That said, I'm incredibly excited to share this change with you! I feel Stage Left's setting will offer a much more personal experience, giving you a chance to interact with presenters in new and exciting ways and I hope, like me, you'll see the advantages of moving Macstock to a new venue for 2023.
I'm looking forward to seeing you all in July at Macstock VII!