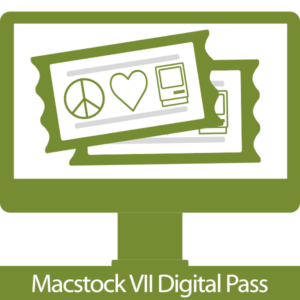 The Macstock VII Digital Pass Recordings are LIVE and ready for you to watch!
I can't believe it's been just over a month since Macstock ended. (Re)Watching this year's talks as I cut down the live stream into individual presentations reminded me of the amazing line up we had at Macstock VII. Every speaker hit it out of the park and I couldn't be prouder to bring you the Digital Pass Recordings so you, too, can enjoy them again and again!
Whether you joined us for Macstock VII with a Weekend Pass, a Virtual Pass, OR you purchased a Digital Pass outright, you now have access to Macstock VII's full schedule including 11 fantastic presentations, 2 days of the Macstock Film Festival, plus the MGG Caucus (which you can also enjoy as episode 993 of Mac Geek Gab)
Yep, it's all there — including the stuff in-between the talks (just as if you were sitting there in person).
But, what if you don't want to sit through all the extra fluff? No worries! I've included cues about 20 seconds into each video that let you know where to "jump" to get straight to the action!
Speaking of cues: In the interest of full disclosure, I did make slight changes to the original live stream recordings here/there if I felt it necessary to help you hear or see a portion of the weekend a little better. As they say, Live Happens!, so "some portions of the recording have been edited for time and/or content." 😁
Oh! I should probably mention that if you couldn't make it to Macstock VII (in person or virtually) and thought you might have missed your chance to purchase a Digital Pass the first time around, they're still available! Just visit https://macstockconferenceandexpo.com/product/macstock-vii-digital-pass/ to pick up your Macstock VII Digital Pass today!
I'm thrilled with how well this year's Digital Pass turned out and I hope you are too! It's amazing how far we've come with the Digital Pass in just a few short years.